Meet Your New Debit Card
First Kansas Bank is committed to giving our customers the best. That's why we're partnering with Mastercard to roll out EMV ("chip") debit cards.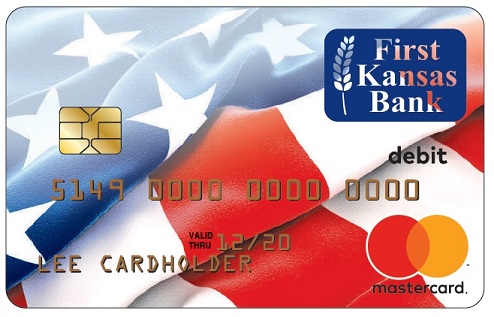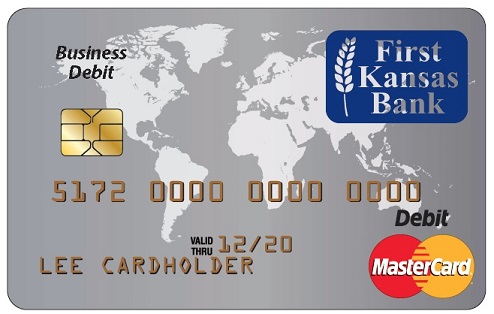 Guide to Benefits:
What Stays the Same:
• Worldwide acceptance at over 36 million places
• Purchases are deducted directly from your checking account
• Cash access at ATMs worldwide
• Liability protection for unauthorized purchases. Certain restrictions apply. See www.mastercard.us/zero-liability for details.
What's Improved:
• NEW Chip Technology
• NEW Identity Theft Resolution Services
• NEW Mastercard Global Service™
• NEW Mastercard Airport Concierge™
• NEW Extended Warranty
• NEW Price Protection
• NEW Satisfaction Guarantee
• NEW Mastercard Priceless® Cities
Your Questions Answered:
Why are you replacing my existing debit card? We've partnered with Mastercard to improve your benefits and add chip technology to your card at no cost to you.
Will my PIN remain the same? No, the first PIN you use after activation will be your new PIN. This can be the same as your previous PIN if you so choose.
If I have multiple accounts, will each account receive a new card? Yes, each personal checking account with a Visa® debit card linked to it will be reissued a new Mastercard Debit card. If you had multiple accounts, such as a checking and a savings account, linked to one card these accounts will both still be linked to your card. If you receive multiple cards and are unsure which is for which account, simply contact us and we will be happy to assist you.
Why does my new card contain a microchip? First Kansas Bank is moving to chip technology because it provides more security and ease of use in other countries and is expected to become standard in the U.S.
What other new benefits will I gain? As soon as you activate your new card, you'll gain immediate access to Identity Theft Resolution Services, Mastercard Global Service™, Mastercard Airport Concierge™, Extended Warranty, Price Protection and Satisfaction Guarantee which are described inside this brochure.
What do I need to do?
1. Activate by calling 1-844-492-8037 and start using your new Mastercard.
2. Sign the back of your new card.
3. Provide your new card number to any merchants that automatically bill your old card.
4. The first PIN used after activation will be your new PIN. Never share your PIN with anyone! First Kansas Bank will NEVER ask for your PIN. If you receive an unsolicited call, text, or email asking for your PIN or other personal account information, do not respond and alert us immediately.
5. Approximately 30 days after you receive your new card, your old Visa® card will be deactivated. Be sure to securely dispose of it.
Still have questions or concerns? Contact any one of our convenient locations for assistance, and keep an eye on your mailbox for your new card!